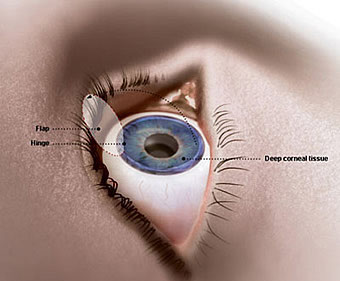 Is LASIK Surgery Right for Me?
Nearly everyone one has heard of LASIK surgery, but not as many people know what it is.
LASIK – which is short for Laser-Assisted in situ Keratomileusis – is a type of refractive surgery to correct a moderate level of myopia (nearsightedness), hypermetropia (farsightedness), and astigmatism The surgery is performed by an eye surgeon who uses a laser to make a small incision in the cornea to reshape it and correct the focusing problems in the eye. The surgery has become fairly common around the world with approximately 2 million laser eye procedures done globally each year.
LASIK surgery has an extremely high success rate with a relatively short healing and recovery process. A positive surgical outcome depends on careful evaluation of your eyes by an eye care professional before the surgery.
Like any medical procedure, LASIK surgery does carry some risks which include:
The removal of too much or too little tissue from a patient's eye can cause under correction or overcorrection, leading to not getting the desired clear vision. Uneven tissue removal can result in astigmatism.
Some vision disturbances and difficulty seeing at night. Some patients notice a glare, halos around bright lights or double vision.
LASIK surgery causes a temporary decrease in tear production leading to your eyes feeling more dry than usual during the healing process.
If you are considering LASIK surgery consult with your eye care professional.