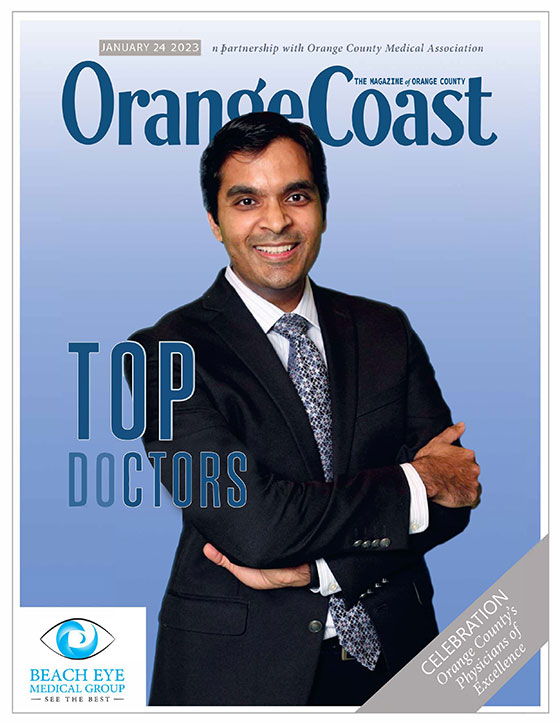 Samir A. Shah, MD, MS, FACS is a board-certified, surgical ophthalmologist (eye doctor) with Beach Eye Medical Group in Huntington Beach. Doctor Shah's clinical expertise lies in advanced cataract surgery, laser vision correction, the latest forms of corneal transplantation, and pterygium excision. He has published book chapters and peer-reviewed journal articles on these topics.
He has been involved in the training of future ophthalmologists in the United States as well as abroad. He has performed charitable surgeries internationally at the Aravind Eye Hospital1 in South India bringing care to some of the most rural and impoverished parts of India. He received recognition for his work by the American Association of Physicians of Indian Origin2.
Doctor Shah is a Diplomate of the American Board of Ophthalmology, a member of the American Academy of Ophthalmology3, the American Society for Cataract and Refractive Surgery, the Cornea Society, and the California Academy of Eye Physicians and Surgeons.
Education
Doctor Shah graduated as valedictorian of his college class at Rensselaer Polytechnic Institute4 in New York. He then pursued medical studies at the University of Michigan Medical School in Ann Arbor, where he was elected by his peers as President of the Medical Student Body. Dr. Shah then went on to complete his residency at the prestigious Jules Stein Eye Institute at the University of California, Los Angeles (UCLA).
He was then selected to complete a highly competitive fellowship specializing in Cornea, External Disease, and Refractive Surgery at the Wilmer Eye Institute5 at the world-renowned Johns Hopkins Hospital6.
The UCLA Medical Center and the Johns Hopkins Hospital have been respectively rated as Best in the Western United States and Best in the United States by US News and World Report for almost 20 consecutive years!
Certification
American Board of Ophthalmology - Certified in Ophthalmology
CA State Medical License
Awards
Doctor Shah has been repeatedly selected by the Consumer's Research Council as among "America's Top Ophthalmologists"
Voted as a top doctor for 2020 by the Orange Coast Magazine
Publications, Presentations & Scientific Research
Shah SA, Stark WJ. Mechanical penetration of a femtosecond laser-created laser-assisted in situ keratomileusis flap. Cornea.7 2010 Mar; 29(3): 336-8.
Ruttig NJ, Jancevski M, Shah SA. Evaluating Wavefront Analysis Application in Intraocular Lens Placement. Current Opinion in Ophthalmology.8 2008 Jul; 19(4): 309-13.
Shah SA, Miller K. Explantation of an AcrySof Natural Intraocular Lens because of a Color Vision Disturbance. Am J Ophthalmol.9 2005 Nov; 140(5): 941-2.
Dr. Shah is also a published researcher and has been invited as a speaker to some of the most prestigious institutions. He also shares his knowledge and expertise on the Beach Eye Medical Group blog, reaching others beyond the Irvine, Orange County, and Huntington Beach areas.
Doctor Shah also studied Shakespeare at Oxford University in England. He is an avid reader who enjoys traveling and spending time with his family when not consulting with patients.
References
1 Aravind Eye Hospital. Available: https://aravind.org/
2 American Association of Physicians of Indian Origin. Available: https://aapiusa.org/
3 American Board of Ophthalmology. Available: https://abop.org/physician/?id=28762&bl=true
4 Rensselaer Polytechnic Institute. Available: https://www.rpi.edu/
5 Wilmer Eye Institute. Available: https://www.hopkinsmedicine.org/wilmer/
6 Johns Hopkins Hospital. Available: https://www.hopkinsmedicine.org/the_johns_hopkins_hospital/
7 Mechanical penetration of a femtosecond laser-created laser-assisted in situ keratomileusis flap. Available: https://pubmed.ncbi.nlm.nih.gov/20098318/
8 Evaluating wavefront analysis application in intraocular lens placement. Available: https://pubmed.ncbi.nlm.nih.gov/18545013/
9 Explantation of an AcrySof Natural intraocular lens because of a color vision disturbance. Available: https://pubmed.ncbi.nlm.nih.gov/16310486/