AMO TECNIS Advanced Multifocal Lens Implant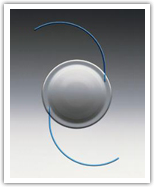 The Tecnis Multifocal IOL is based on the aspheric optic design of the Tecnis IOL (Abbott Medical Optics, Inc.), which was engineered to reduce the spherical aberration of an average cornea (which enhances clarity). Based on a principle of diffraction the Tecnis Multifocal IOL features diffractive rings on its posterior surface.
The rings start very close to the optics center and then continue out toward the periphery. As a result, the multifocal effects are not affected by pupil size or lighting conditions. Even in dim light, distance and near vision are quite good. The lens provides patients with excellent near and distance vision, each of which is distinct. Most patients also report good intermediate or arms' length vision as well.
Immediately after surgery, some patients may notice halos around lights during night driving. However, as the eye adjusts to the lens, the visual impression of rings may lessen and usually goes away over time.