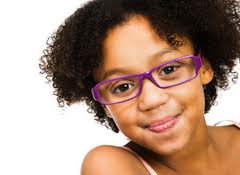 Who Does Your Child See First?
Your child's first eye exam can be a little confusing, a little daunting and a real adventure. While it might seem obvious to some, exactly who to set up an appointment with for your child first exam can be a little blurry. Is it the optician? Or is it the optometrist? And how about the ophthalmologist?
Don't worry, here's a quick guide for picking the type of eye care professional to match the needs of your child.
You can cross an optician off the list for your child's initial exam. An optician is not an eye doctor, they don't do eye exams and they don't prescribe glasses. What an optician does do is make and fit glasses and educate wearers – especially those new to glasses, like kids – in the proper use and care of eyewear.
Most likely you're going to make the initial exam for your child with a Doctor of Optometry, better known as an optometrist. They are licensed eye care professionals who are trained to perform eye exams, diagnose and treat vision problems. Optometrists can also prescribe eyeglasses.
Rounding out the group is an ophthalmologist, who is a physician that has specialized in medical and surgical eye car. Most likely they have followed up their time at a medical school with concentrated training in eye surgeries. They are also qualified to treat general eye and vision care and all the other things an optometrist can do, but can also perform eye surgeries.