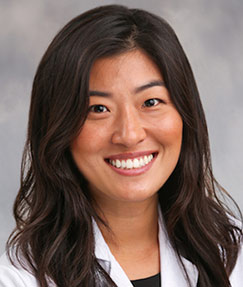 Jane S. Kim, M.D. is a board-certified and fellowship-trained oculofacial surgeon, who specializes in surgical and non-surgical procedures around the eyes, brows, forehead, and midface, with special interests in cosmetic and reconstructive surgery as well as thyroid eye disease.
Dr. Kim grew up in Southern California and received her bachelor's degree at the University of California, Los Angeles (UCLA), graduating summa cum laude with departmental and college honors. She earned her medical degree at the University of California, San Diego School of Medicine, where she was selected for a prestigious research fellowship at the National Institutes of Health in Bethesda, Maryland and was honored with multiple research awards for her work. She completed her medical internship at St. Mary Medical Center in Long Beach, California and her ophthalmology residency at Duke University in Durham, North Carolina, during which she was recognized for her research in corneal neurotization for neurotrophic keratopathy. She then completed a highly competitive two-year fellowship accredited by the American Society of Ophthalmic Plastic and Reconstructive Surgery (ASOPRS) at the University of Michigan, where she also served as faculty. Dr. Kim has published over 50 peer-reviewed manuscripts, book chapters, and abstracts in the top clinical journals and presents regularly at national and international symposia.
Dr. Kim's expertise lies in both functional and cosmetic surgery of the upper and midface, with special attention to the periocular region, including brow lifts, upper and lower blepharoplasty, medial and lateral canthoplasty, ptosis repair, ectropion repair, entropion repair, dacryocystorhinostomy, orbital surgery, Mohs reconstruction, and midface lifts. She also specializes in non-surgical facial rejuvenation, including dermal fillers, neurotoxin injections, laser resurfacing, and chemical peels. She also treats patients with thyroid eye disease. For each patient, Dr. Kim creates a personalized treatment plan tailored to their individual needs and goals. Her approach is to ensure that every patient and their family are treated with the same level of respect and compassion that she would provide to a member of her own family.