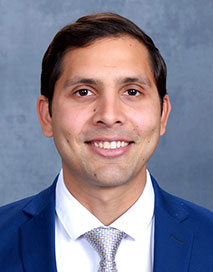 Frank Abella, MD is a fellowship-trained Neuro-Ophthalmologist and Comprehensive Ophthalmologist. Dr. Abella was born and raised in Puerto Rico where he received his medical degree from the University of Puerto Rico. He graduated Magna Cum Laude and was awarded a membership to the Gold Humanism and Honor Society for his leadership, compassion, and dedication to providing healthcare to under-resourced communities.
He then pursued postgraduate training in Ophthalmology at Georgetown University in Washington DC and then completed a highly competitive Neuro Ophthalmology and Adult Strabismus Fellowship at the University of Southern California. During this time, he participated in various research activities including written and oral presentations at the North American Neuro Ophthalmology Society national conference.
Dr. Abella practices the full range of comprehensive ophthalmology including cataract surgery with femtosecond laser and premium lenses, minimally invasive glaucoma surgery (MIGS), and is skilled in the diagnosis and management of general eye disorders. As a subspecialist in Adult Strabismus and Neuro-Ophthalmology, he has additional expertise in the diagnosis and management of disorders of the nervous system that affect vision including double vision and eye misalignments known as strabismus. Additionally, he offers medical Botox for facial spasms and can help manage stroke, ocular tumors, idiopathic intracranial hypertension (pseudotumor cerebri), optic nerve disorders, multiple sclerosis, thyroid eye disease, and myasthenia gravis among others.
He strives to provide high quality and compassionate eye care. He strongly believes in the importance of providing education to his patients. In his spare time he enjoys surfing, outdoor activities, reading, playing guitar, cooking, and traveling.